European Instrument Qualification Handbook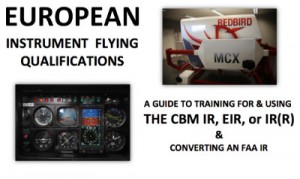 Amidst all of the time and effort involved in establishing and running the ATO, Jim has worked extensively to prepare a comprehensive, thoughtful and illustrated Training Manual. Entitled European Instrument Qualifications Handbook, it addresses all of the challenges and issues for the private pilot brought about by the Competency Based IR and the EIR. Additionally consideration is given to the requirements around conversion of FAA (and other) licences to EASA.
We are quite happy for you to download your personal copy of this manual – you just need to register for access into our Members Area.
If you would like to purchase the fully bound glossy printed version, these are available at £40.00 including postage & packing – just drop us an email to: info@rateoneaviation.com